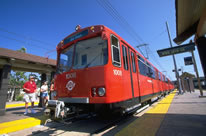 TCRP Report 78: Estimating the Benefits and Costs of Public Transit Projects: A Guidebook for Practitioners
This Guidebook is intended to assist transit practitioners in
a) Estimating the benefits and costs of public transportation projects; and
b) Presenting that information to
interested parties.
User Tip: The document is displayed in PDF file format inside the main viewing window, and is viewed using Adobe Acrobat Reader, which provides added user functionality. This document-viewing program enables a sophisticated left navigation system and allows for searching, zooming, saving and printing options.