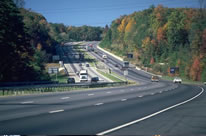 Preparing and delivering high-impact, effective presentations takes time, thought, patience and practice. The Presentation Tips provided below are offered as guidance on many facets of the presentation process, from becoming familiar with the presentation location beforehand to the right number of slides to how to prepare content. Of course, every presentation is unique, and not all of these tips may apply or be appropriate for your presentation.
User Tip: If you have Adobe Acrobat Reader® installed on your computer, clicking on the links below will open the MS Word® documents in a new browser window. If you prefer to save the documents to your personal computer, simply right mouse click on the link, select "Save Target As", and enter your preferred directory location.
Adobe Acrobat Reader is a free download.
---